Which Golf Cart Brand Is Right for You?
Whether you're looking to cruise around your neighborhood, get around a large property, or simply enjoy a day out on the golf course, owning a golf cart can be a great investment. However, with so many different types and brands of golf carts on the market, it can be hard to know which one is right for you. That's where BMK Golf Carts comes in. As a leading golf cart dealership in Florida, BMK Golf Carts specializes in the sale and service of refurbished, street-legal, and custom golf carts from top brands like Bintelli, Custom Club Car, Kodiak, and Tomberlin. We'll break down the different types of golf carts we offer here at BMK Golf Carts and help you determine which one is the best fit for your needs. 
Visit our showroom in Pompano Beach, FL, today! 
When you choose Bintelli golf carts, you're opting for an American-made, street-legal, aluminum frame golf cart that offers unbeatable performance. Their golf carts are known for their sleek and modern designs, powerful motors, and advanced safety features. Bintelli's line of Beyond Street Legal golf carts has a range of luxury features to ensure you have a smooth ride both on the street, on the golf course, and wherever else you may take it. 
Your Bintelli golf cart can be customized to meet your exact needs at our golf cart dealership in Florida. With the variety of golf cart accessories available, your ride will be everything you dreamed of and more. If you're looking for a golf cart that is versatile, reliable, a great value for your cost, choose a Bintelli golf cart. Visit us today to test drive your new golf cart! 
When you're looking for a custom golf cart that can be personalized to meet your riding needs and bring you maximum comfort, choose Club Cars. At BMK Golf Carts, we carry a variety of custom Club Cars, including a two-person cart, a four-person cart, and a six- person cart. Each cart is made with an aluminum frame to ensure durability and a smooth ride.  
Custom Club Car offers top-of-the-line custom golf carts that are designed to match your personality and style. They have an extensive selection of customization options, including custom paint jobs, wheels, accessories, and more, so this is the perfect golf cart for those who want plenty of options to personalize their cart. View our selection of custom Club Car golf carts!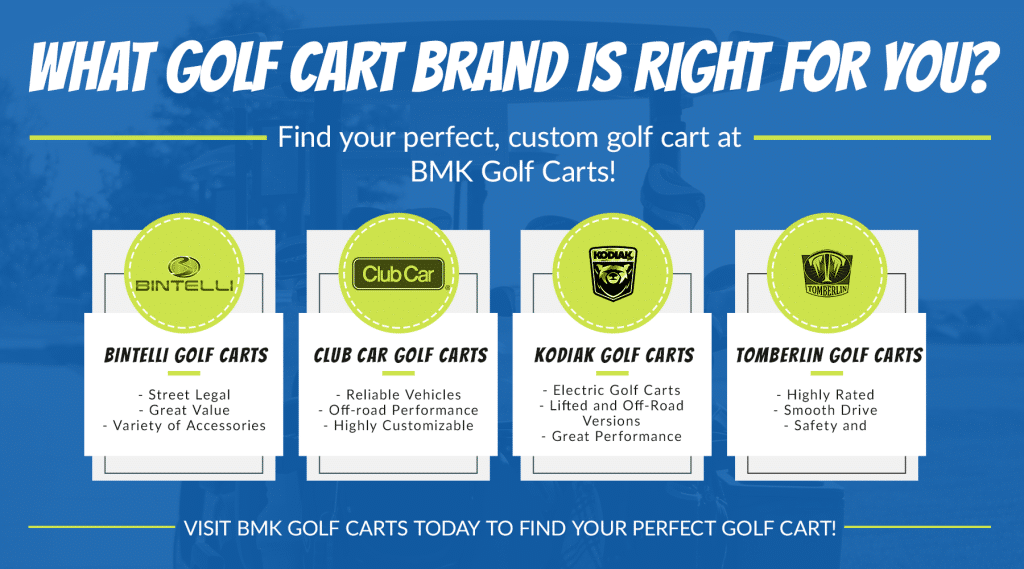 Kodiak Electric Vehicles is a leading name in the industry for good reason, and at our golf cart dealership in Florida, we're proud to offer the best Kodiak golf carts available. Whether you're interested in a golf cart purely made for time on the green, or a lifted golf cart to provide the ultimate off-roading experience, Kodiak is a wonderful choice. 
We offer golfing setup models, mid-lift models, and lifted models all in two, four, and six-person options, so you can find the perfect cart for your needs. And, if you'd like to add custom golf cart features to your Kodiak, you can trust that our team will bring your vision to life. Kodiak Electric Vehicles can reach up to 19 mph and provide a range of up to 25 miles on a single charge, ensuring these electric golf carts always perform when you need them to. 

At BMK Golf Carts, we have the perfect Tomberlin golf cart to suit any need. Choose from our wide selection of gas and electric models, featuring advanced suspension systems, adjustable seating, and top-of-the-line safety features. Whether you're looking for an off-road vehicle, a personal transportation utility, or just something fun to take out on the course, we have it all – from classic to the latest offerings in design and technology. No matter what you're looking for, we've got the perfect golf cart for you.
Visit our showroom in Pompano Beach, FL, today!
Visit BMK Golf Carts today to see our wide selection of custom golf carts! Our golf cart dealership in Florida has hundreds of models for you to browse, test drive, and take home. 
HIGHEST RATED DEALER IN THE COUNTRY WITH OVER 600 REVIEWS
Anthony Maugere
2023-02-27
if your golf cart needs repair, BMK is the only place to take it! their staff is extra friendly, and they offered door-to-door service. I was very happy with them, and would use them again in the future.
Fast and very professional and helpful!!!
Taty's Lifestyle
2023-02-24
Great service! Very fast.
Thank you BMK for bringing our golf cart back so quickly and for the great service.
Great service !!!
The best in the business. Great company and even better service.
You guys are the best. The driver was amazing!!!
Looking forward to many years with this. Great doing business with you
Guadalupe Mendez
2023-02-17
All good
Get In Touch
2201 N Andrews Ave, Pompano Beach, FL, 33069
(954) 854-7395
BmkGolfCarts@gmail.com
Hours
Mon: 09:00 am – 06:00 pm
Tue: 09:00 am – 06:00 pm
Wed: 09:00 am – 06:00 pm
Thu: 09:00 am – 06:00 pm
Fri: 09:00 am – 06:00 pm
Sat: 11:00 am – 05:00 pm
Sun: Closed
Call anytime Monday – Friday from 9am – 6pm